Very kind sir. As mentioned at the beginning it's been a long time coming but I now have a space that I can fettle, mend, bodge and create. This is only mechanical and electrical, I've got another stores and shed for DIY and building tools.
Panoramic of workshop.

Tape, adhesives, cable ties, bags etc.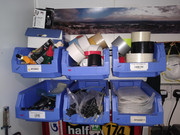 1/2" sockets, torx, hex etc.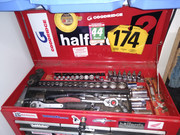 Spanners and screwdrivers.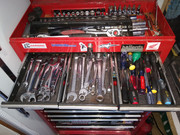 Pliers, mole grips, adjustables, lock wire etc.
Hammers and drifts.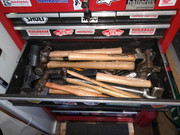 Verniers, squares, measuring, cutting etc.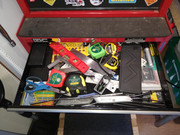 Deep 1/2" sockets, imperial spanners, impact driver, chain tools and 1/2" torque wrench (need to buy a 1/4" one...)
T-sockets, T-allen keys, other allen keys, 1/4" socket set, hex socket screwdrivers, JIS screwdrivers, torx screwdrivers.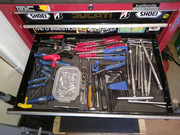 Drill bits, vacuum pump, rivet gun, screw extractors, compression tester, taps and dies.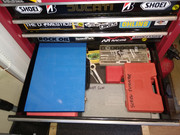 Saws, abrasive paper, glue gun, tin snips, bolt cutters.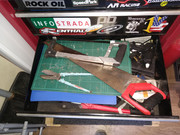 MIG welder, stick inverter, imperial 1/2" socket set, cordless drill, rags/shop roll, files/scotch pads etc.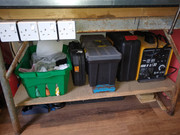 Drill press, bench grinder/wheel, drawers with nuts/bolts/washers/o-rings/circlips/hose clamps/cotter pins etc., band saw and PPE.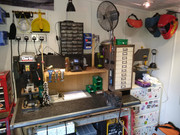 Air lines, extension lead, parts washer, bin (that needs emptying).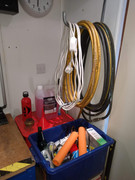 Grinders and powefiles.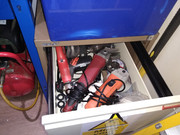 Air tools.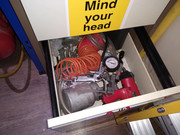 Compressor and electrical/AV/IT parts.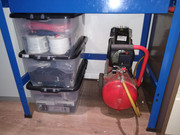 Electrical and electronic tools.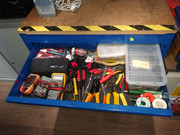 Flammables, welding gases, magnetic squares etc.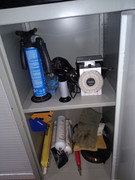 Hoses, more electrical parts, battery chargers, ultrasonic cleaner.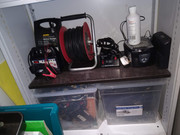 Oils, cleaners and other consumables.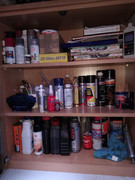 Stereo, beer fridge, power supply, PC, endoscope and more parts bins.
Unfinished 500cc 2-stroke motard...