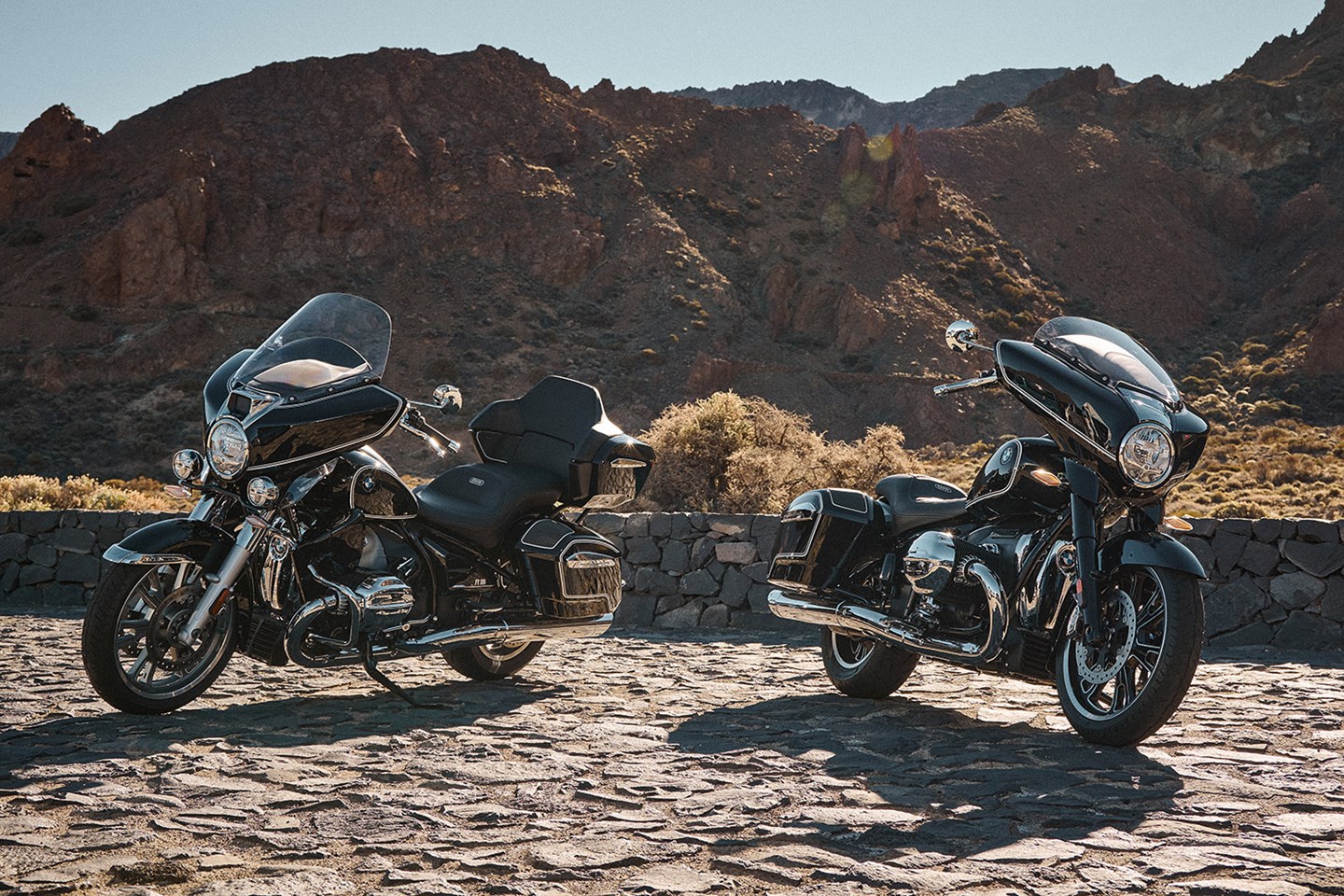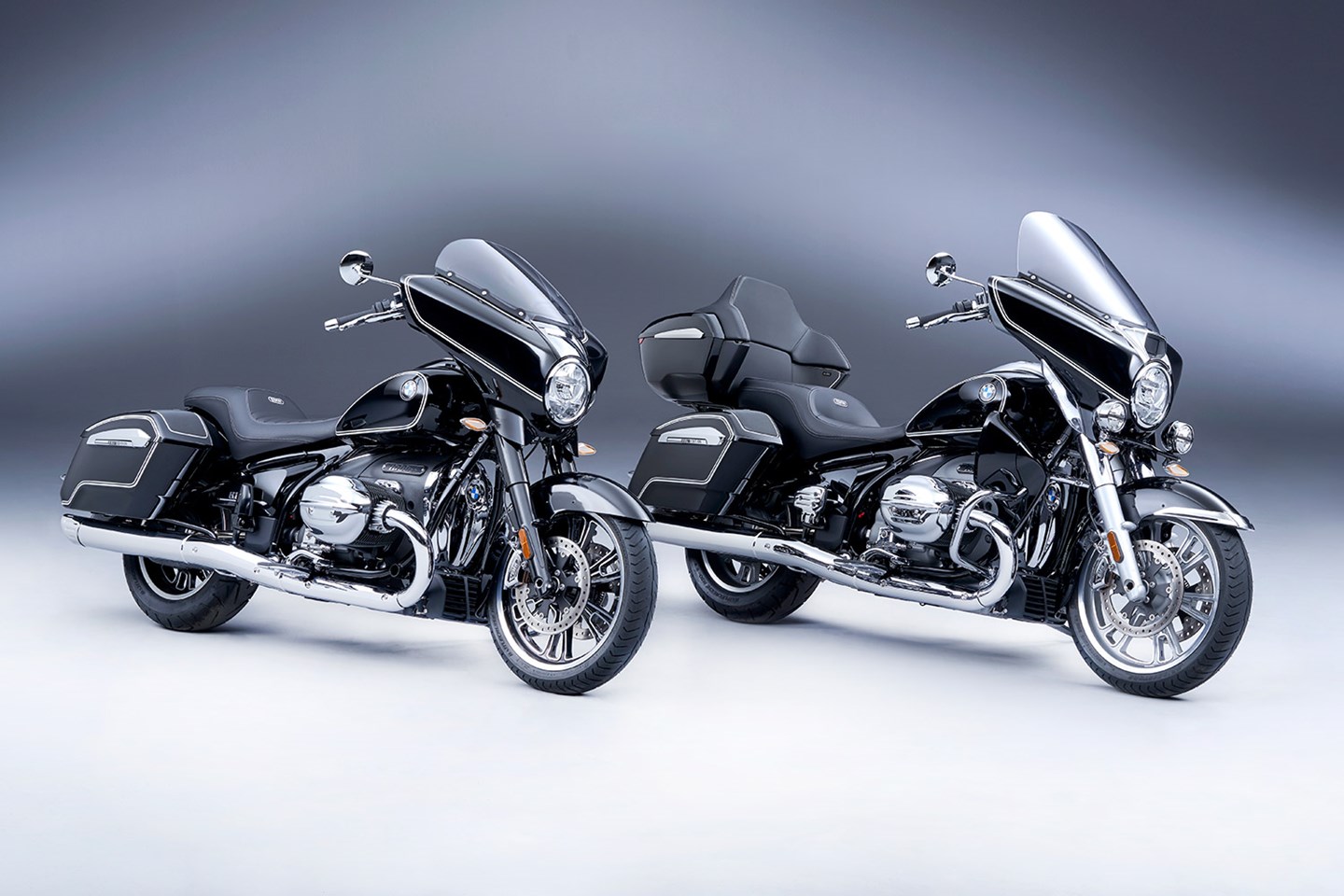 https://www.motorcyclenews.com/news/new ... ntal-r18b/
BMW have unveiled two new R18 based tourers – the R18B 'Bagger' and the R18 Transcontinental 'full dresser'. Both bikes take the core of the R18, a giant 1802cc air-cooled boxer engine, exposed shaft drive and softail rear end while adding more comfort, increased range and top notch electronics.
They're very similar – the R18B is basically a slimmed down version of the Transcontinental without a top box – but each one is aimed at a different person.
Both bikes are powered by the by the 1802cc boxer twin the first debuted in the R18 last year. Nothing has changed mechanically so it produces 89bhp at 4750rpm and 116.5lb.ft at 3000rpm, with 110ftlb of that available from 2000-4000rpm.
Again like the R18 both bikes share a twin loop steel frame, which echoes the designs BMW have been using for yonks. They also carry over the cantilevered softail rear end although both bikes get a 30% boost in rear suspension travel to 120mm for increased comfort.
The fuel tank has also grown on both models from 18l to 24l, so a range well in excess of 200 miles should be perfectly achievable.
And it should be easy enough too as sat atop the forks is a giant fairing to protect you from the elements. It's the same size on both bikes but the Transcontinental comes with a taller screen as standard, a set of wind deflectors plus some vents in the fairing which you can open up if things get a bit steamy.
The riding position for both is also similar with mid-mounted food controls. The Transcontinental gets a huge great seat (which is heated as standard) and footboards, whereas the Bagger comes with a slimmer seat and more traditional footrests.
The Transcontinental also takes the lead with storage. Both bikes come with 27l panniers (or bags…) either side but the Transcon adds a 48l top box, which is big enough to swallow two full face lids.
Where things get really exciting are in the electronics department. For a start both bikes come with cruise control as standard but it's possible to add 'active cruise control' as an option.
Active cruise uses radar to judge the distance to the vehicle in front and slow down or even brake if necessary. Hidden behind the giant batwing esque fairing on both bikes is a whopping 10.25" Full HD colour TFT screen, which does virtually all the control duties.
It's bordered by four classic analogue dials that give fuel (finally!), speed, RPM and 'power in reserve', which is a feature they've nicked from fellow BMW brand Rolls Royce.
In effect while you ride along it lets you know at any one point how understressed the engine is. Probably makes more sense showing the stats of the 6.75L V12 in the Phantom, which will do motorways speeds barely past idle but there you go.
The really nifty part of the dash is the navigation, which just like the R1250RT runs via Wi-Fi on a dedicated app on a smartphone. To keep you going for longer, there's a little cubby hole on the tank, which stores you phone and wirelessly charges it as you go. Smart eh?
Again just like the standard R18 there are three riding modes (Rain, Rock and Roll) plus a few other nifty optional extras such as hill start and reverse (although this should almost be viewed as a necessity as the B weighs 398kg while the Transcontinental a mind boggling 427kg).
As standard both the Transcontinental and the Bagger get a sound system crafted by the experts at Marshall. However if you're going deaf, or enjoy upsetting your neighbours, there are also some Stage 1 and Stage 2 upgrades. The result is up to four loudspeakers, two subwoofers, 280w of power and probably an ASBO to go with it.
Bikes are to be expected in dealers by September 2021, with R18B prices starting at £21,500 and the R18 Transcontinental at £23,300, which is actually a damn sight cheaper than expected and (while it might not exactly sound cheap) it's a few grand less than similar American machines.